Welcome to Petsly! This is an important day for us because we can finally officially welcome everyone on our doorstep! Here is the open beta we hope to bring you to perfection. Make yourself comfortable, and we'll show you around the most important corners of Pestly and tell you how to take your first steps in the perfectly ordered world of pet care. Get ready for a comfortable revolution for the zoobusiness!
First of all: for whom?
Petsly was created for veterinarians, animal physiotherapists, behaviorists, groomers, trainers and other people who have associated their careers with pets. If you are wondering if Petsly is for you, answer a few questions:
Do you offer services for pets?
Do you arrange meetings with multiple people?
Do you need to gather information about different patients and clients?
Is it important for you to share recommendations, test results and other documents with your clients?
Are you dreaming of a tool that will allow you to handle everything with just a few clicks?
If you had an enthusiastic "YES!" On your lips, Petsly is the answer to your problems.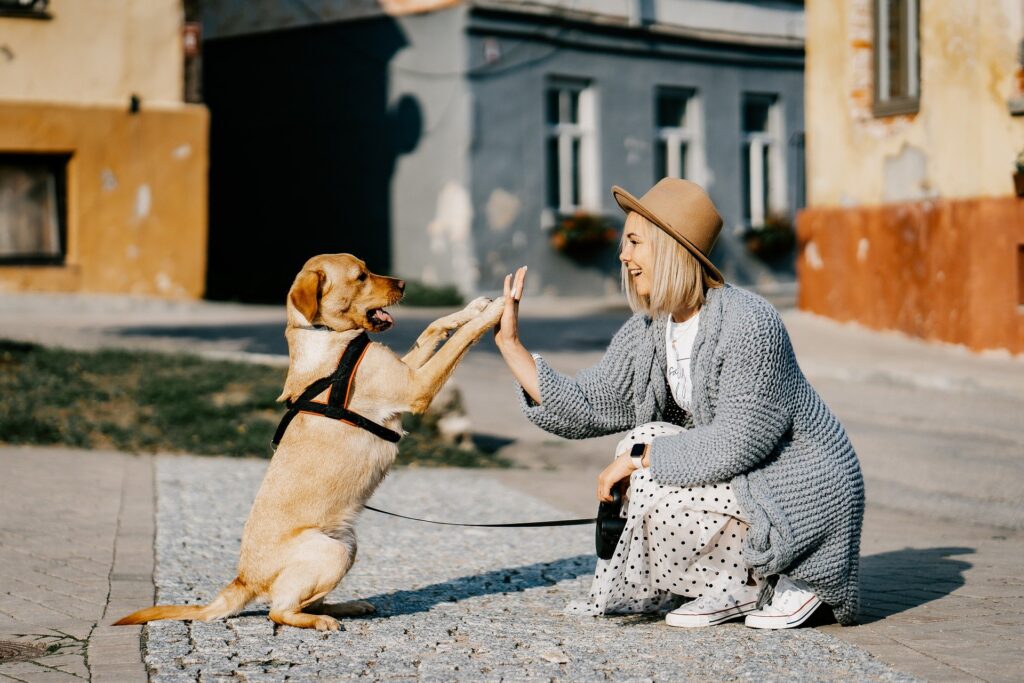 Petsly – Swiss army knife in zoobusiness
Our goal was to create a tool that collects many different utilities in one place. We can confidently say that we succeeded, because Petsly means convenience, time saving and even more effective help for your charges. Our application consists of four departments that will improve all administrative activities related to your work: Meetings, Calendar, Clients and Invoices.
In Appointments, you will find information about the completed and scheduled visits of each patient, arrange them for subsequent meetings, and before he visits you, you will quickly remember the most important details about the pet.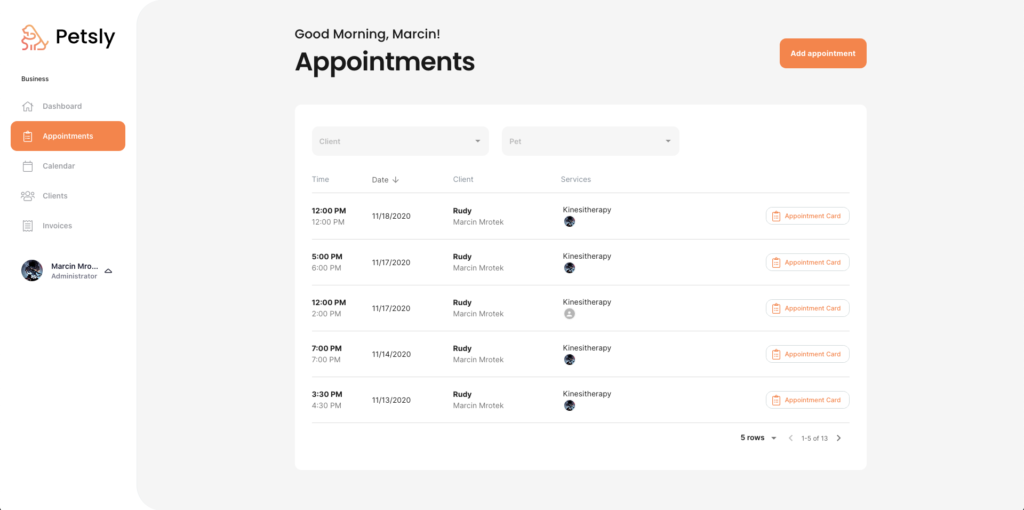 The Calendar will give you a quick insight into the coming weeks and will allow you to control priceless time – no more duplicate visits or delays.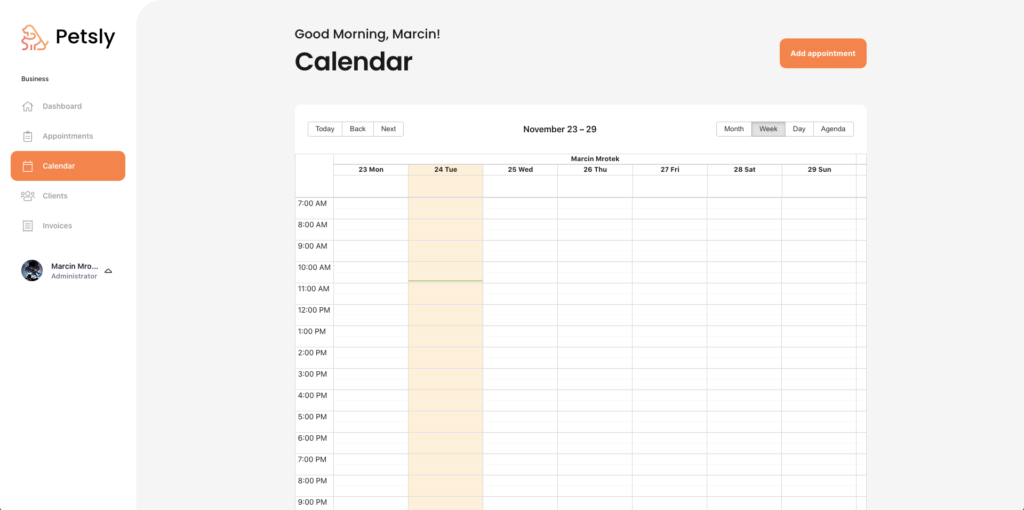 The Clients department is a real treasure trove of knowledge about your charges and their carers. You will find everything from basic information such as race and date of birth, through food allergies, learning progress, and recommendations. It is also a place to collect any files that can help you: test results, training videos or rehabilitation recommendations. You will certainly appreciate this convenient alternative to bloated folders or files.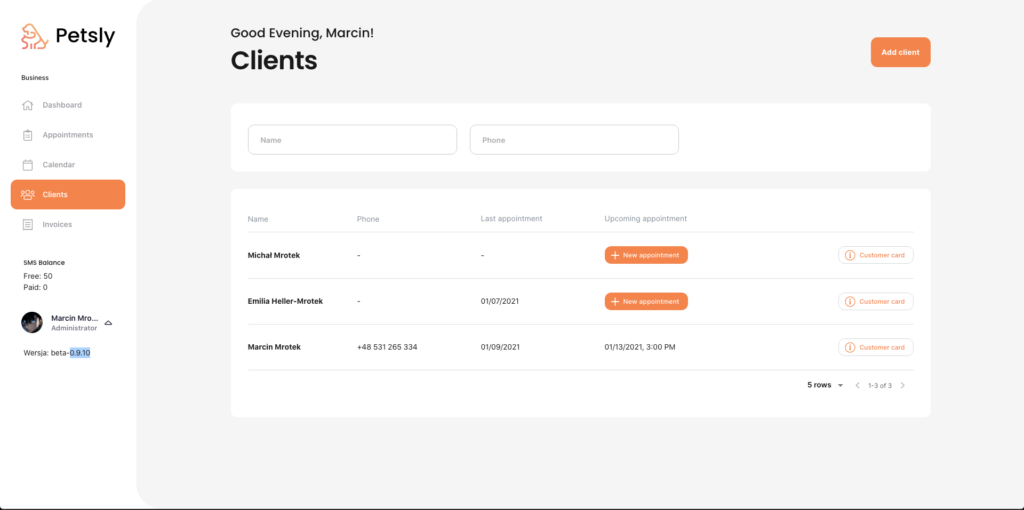 The last section is Invoices, thanks to which you will become the accountant's favorite. A clear history and order in finances is the basis for us!
First steps – how to start?
You signed up for Petsly, you are shivering with excitement and… now what? Surely you want to enter information about your first clients and enter the next meetings in the calendar. To add more pets and their owners, go to the Clients section, click the "Add client" button in the upper right corner and fill in all the data. Then go to his card and click the plus sign to refill his game with specific animals) you can choose from dogs, cats, rabbits and horses, but we hope that Petsly will grow quickly by more quadrupeds). Adequately, to add a meeting, you have to select the "Add appointment" button in the Appointments section – you can choose from both an individual and a group option, ideal for joint training!
Isn't it that simple? We can assure you that everything you need to do to enjoy Petsly is incredibly intuitive. Our testers bravely supported us throughout the year, so that today you can take control of your business with a dedicated, tailor-made tool. Join our beta version, which will be more and more perfect every day. Welcome to Petsly!