Our goal is one: to make animal care easier than ever before. Making appointments, monitoring the progress of treatment or training and easily planning further activities with four-legged pupils – PETSLY has it all. Intrigued? Let's get to know each other!
The idea for Petsly appeared thanks to … Pestka. Pestka is an Australian Shepherd with a very cute disposition and an unlucky health history. Unfortunately, for this pooch, visits to vets and physiotherapists are as normal as rubbing behind the ear and running after a ball. On the occasion of another injury and frequent visits to the zoophysiotherapist, we noticed that he had no notifications about upcoming meetings. An idea was born in our heads to solve this problem. But first, we had to do some serious research.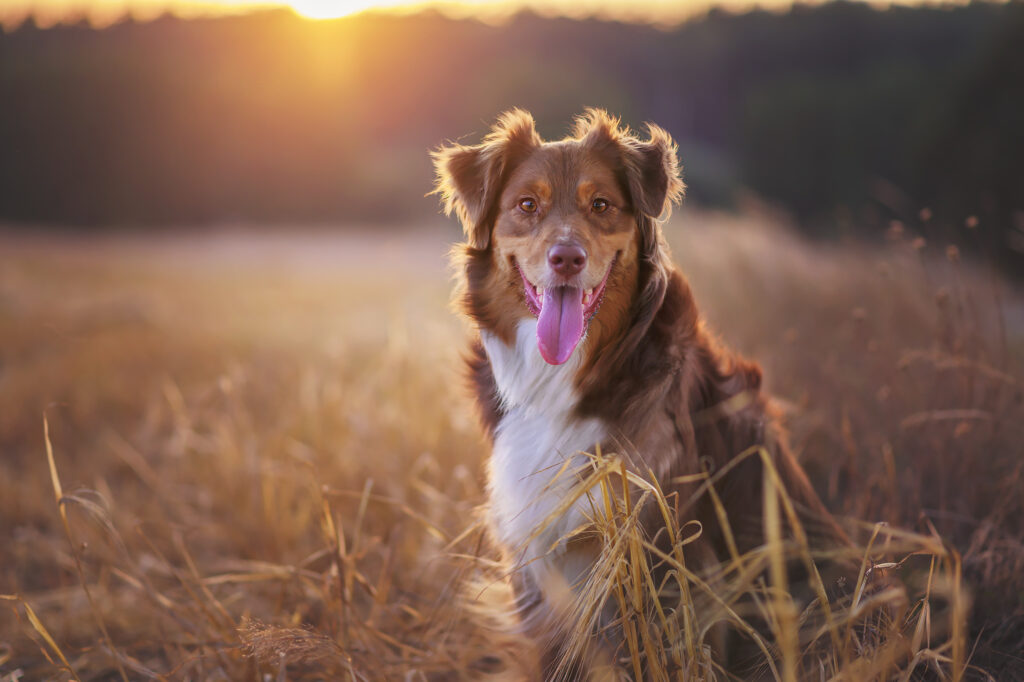 Four-legged application: support at the source
The help of Paula Gumińska, a trainer, physiotherapist and a fantastic person who works with dogs on a daily basis, turned out to be invaluable. If you want to find out that Paula knows everything about dogs, be sure to check out her website ""I wszystko jasne – Paula Gumińska".. Paula told us about the backstage of her work and managing all administrative matters, and she was (and still is) a huge motivator for us to act. The more we talked to Paula and other animal handlers, the more obvious it became that they lacked a dedicated tool. Some tried to reach for solutions for people and adapted them to the needs of pets, others showed cabinets full of binders and notes about patients and clients. So we asked what they needed. Once we had collected all ideas, requests and interpellations, we knew exactly what had to be done. In January 2020, work on Petsly started: an application for veterinarians, physiotherapists, behaviorists, groomers and all people who have associated their careers with pets.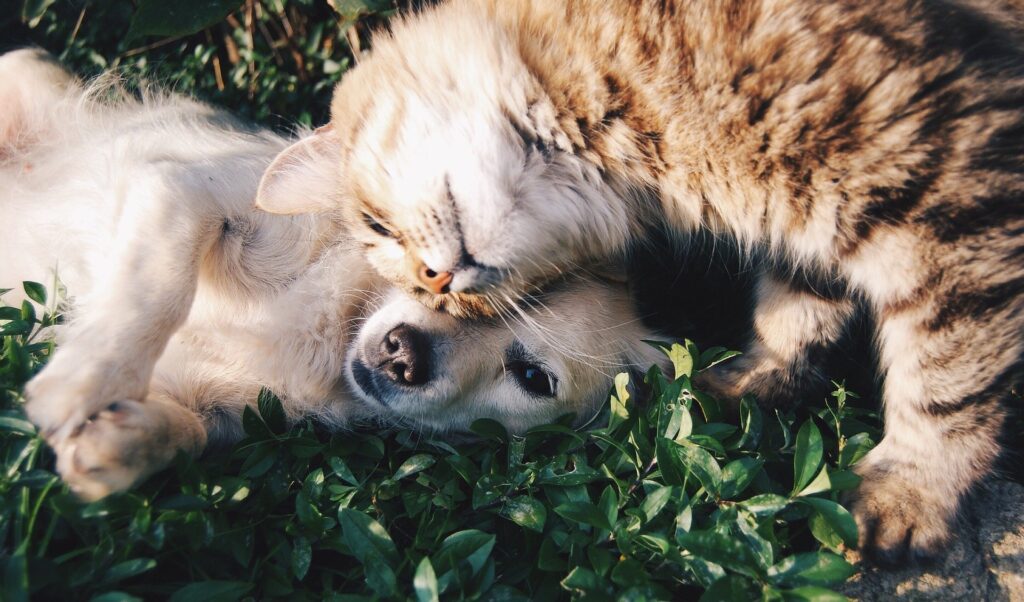 A dedicated tool for the pet market
Our main task in creating Petsly was to develop several tools that would streamline typical administrative activities and allow us to focus on what is most important: effective animal care. After consultations and tests, we identified four that we considered necessary: Meetings, Calendar, Clients and Accounts. In this way, everything that is most important is always at hand, and the use of our functionalities is intuitive and simple. No more a few volumes of notes and hardcover calendars – now all you need is a smartphone. Here are Petsly's amenities:
Appointments
Thanks to the Meetings, it takes just a few clicks to make an appointment for a four-legged patient. You can also search for upcoming visits from the pet or guardian here. In Meetings, you will find all information about the services or procedures performed, the patient (his age, race and weight), and you will also create notes with additional information, e.g. on food allergies. There are dogs, cats, rabbits and horses in the Petsly patient base right now, but we hope Petsly will become as comprehensive as possible in the future.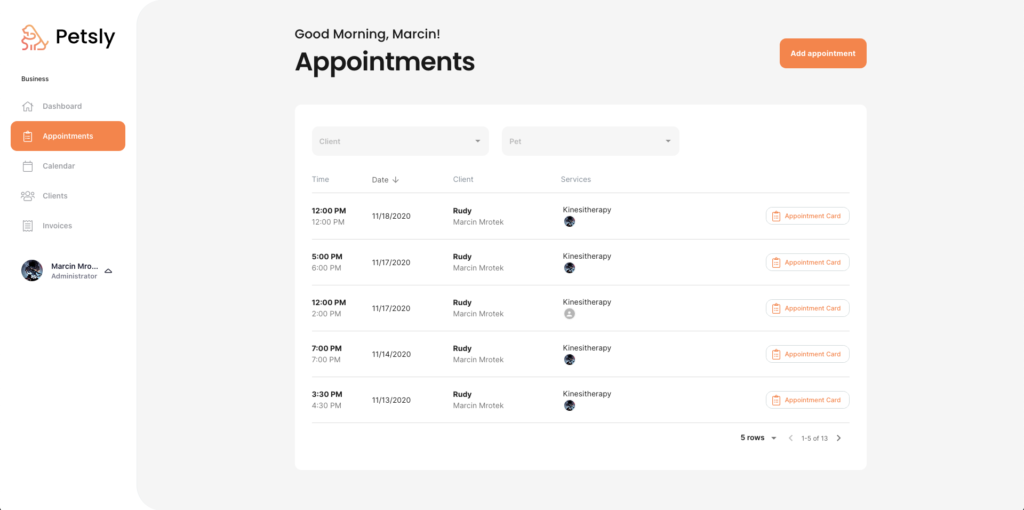 Calendar
We won't surprise you with the news that the Calendar is just a quick glimpse of who is visiting you and when. You can see everything at a glance, and you can be sure that there will be no duplicate visits or mixed up dates. When it comes to the welfare of pets, we do not allow the option of lateness and turmoil in space.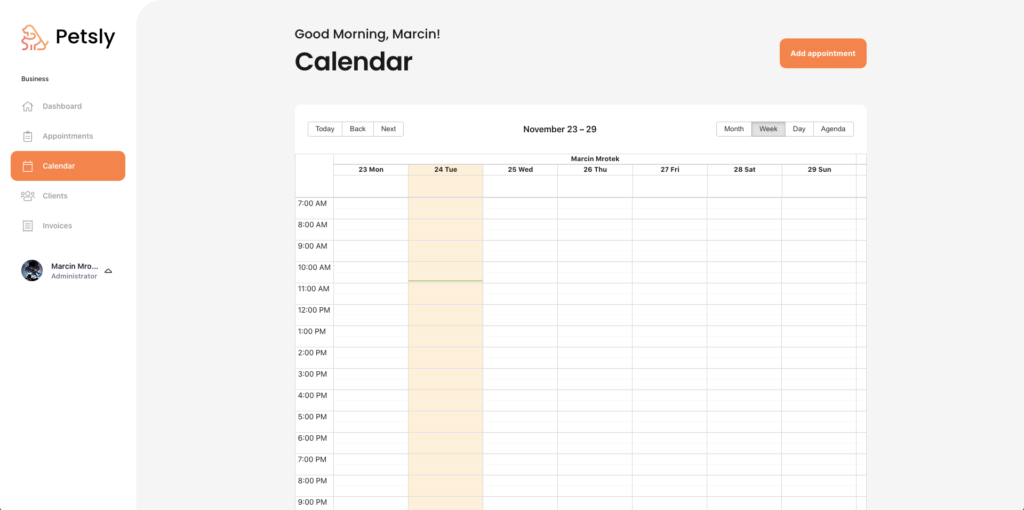 Clients
It is a real treasury of knowledge of every veterinarian, physiotherapist and trainer. In this section you will find every guardian and you will remember all the details about his pets. You won't miss a single detail: from your birthday to the latest services or further therapy or study recommendations – you have everything in one place. You can also add important documents to the animal profiles, such as test results or even training videos. This is a completely new approach to caring for pets and a great help in planning further procedures.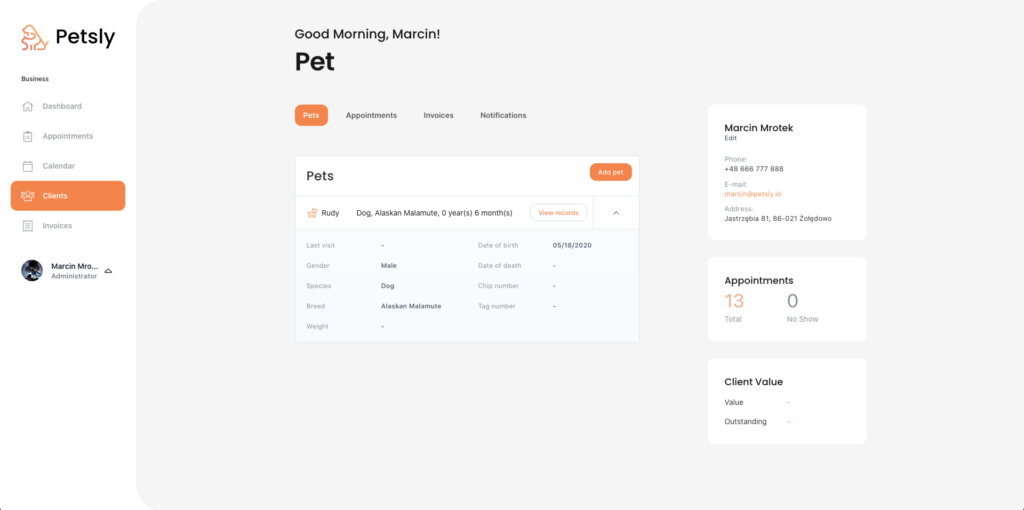 Invoices
Accounting can make quite a lot of gray hair, which is why we focus on order. Each bill is saved in the database, and you have access to the prices of services and the expenses of each of your clients and patients. When the need arises, you can go back and check your accrued payments, and your finances will be in order like never before. This is what we focus on at Petsly: intuitiveness, functionality and transparency in the service of pets.
With love,
Petsly Team
*The appearance of individual tools may change in the final version.